Beach holidays UK- Everybody loves spending time on the beaches and specially in summer time. Beach holidays UK are great for people who simply want to take a break and recharge. Escape the hustle and bustle of urban life and enjoy sunshine, the sea and sand in a tranquil spot, while listening to the sound of waves lapping up against the shore.
Beach holidays in UK is a great idea which everyone loves and adores. Want to dip your toes in the ocean so badly? or dig your toes into some soft white sand? This article brings you 10 beautiful and adoring Beach holidays UK destinations.
1- Beach Holidays UK in Blackpool Sands
Blackpool Sands beach is located in South Devon. Despite its name and distant look, the UK beach holiday place is really made up of the tiniest, smoothest stones, which causes the water to be remarkably pure. (It has received honors for cleanliness; dogs are not permitted.)
Children may play in sandpits, and those who enjoy water activities might try kayaking or paddle boarding. The majority of the time, you may rent wetsuits and other gear. In the summer, there is a lifeguard service available.
The beach is privately run, and there is just one restaurant there, so it may become extremely crowded. The beach consistently receives the Blue Flag award.
Read a detail guide on Disney Cruise UK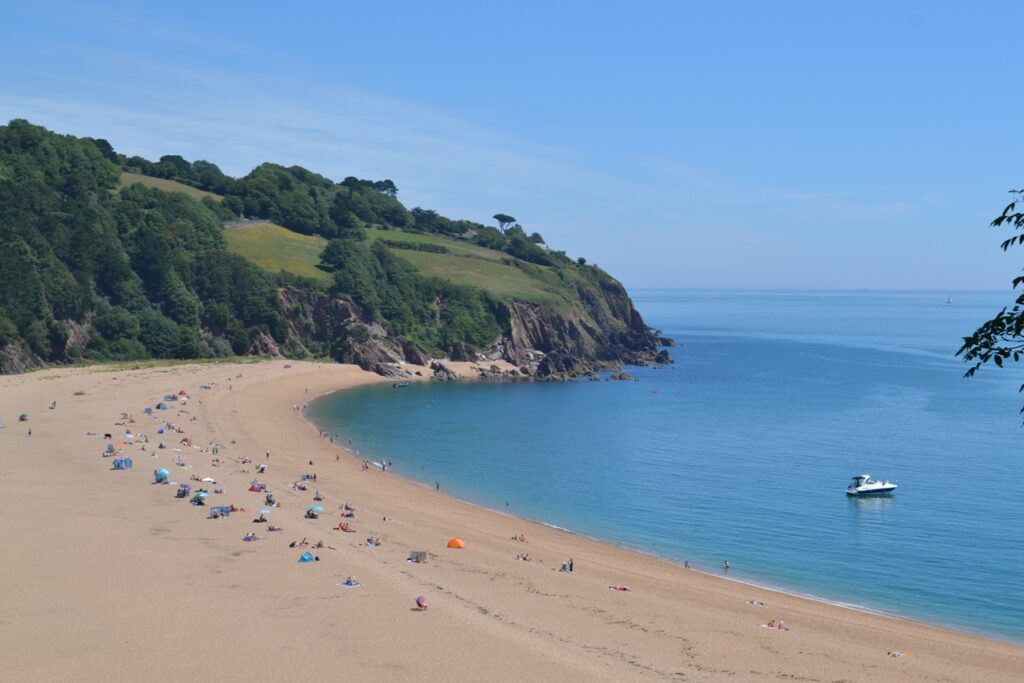 2- Beach Holidays UK in Barafundle Bay
Barafundle Bay, another prize-winning beach for Wales, attracted notice when it was rated among the greatest beaches in the world. Visitors will discover a picture-perfect beach, where little turquoise waves gently lap on sand, after travelling the pretty half-mile trail from Stackpole Quay.
It is a type on sandy beach where no lifeguard services are available. Activities at Barafundle bay includes swimming and surfing. You can park your cars at Stackpole Quay. The facilities include cafes and toilets.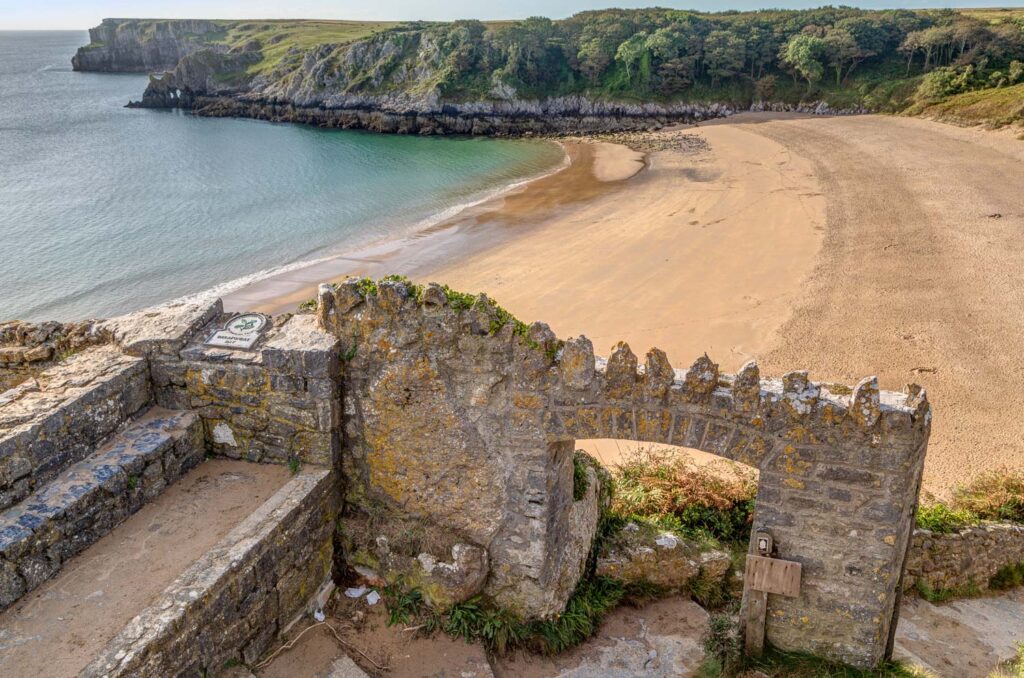 3- UK Beach Holidays in Compton Beach
Compton Beach is one of the greatest secrets on the Isle of Wight. West Wight's Compton boasts a two-mile strip of contrasting golden and black beaches, undulating waters, cascading colorful sandstone cliffs, and the distant white chalk cliffs at Freshwater.
Despite the absence of a café, a refreshment van may be seen there on weekends in the summer and winter. Dinosaur footprints may be observed stamped in the rocks here at low tide, and the region is well-liked among fossil seekers. By the parking lot, there are signs outlining beach safety.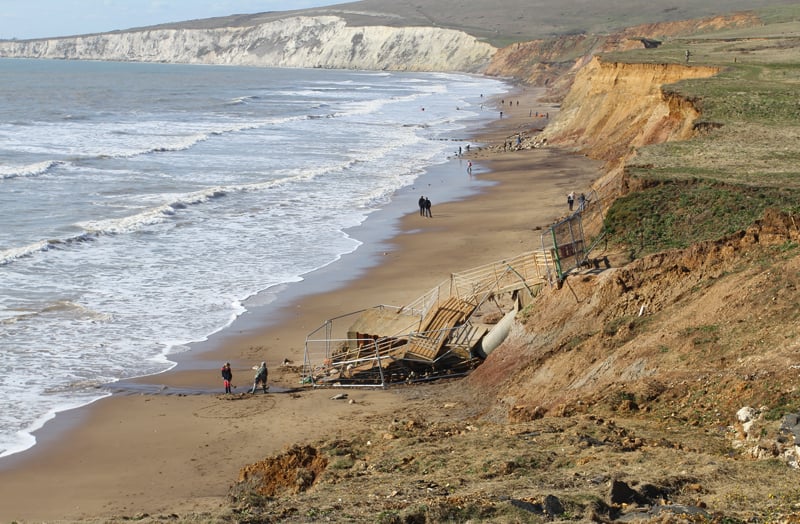 4- UK Beach Holiday in Man o War bay
A sizable parking lot is accessible through Durdle Door Holiday Park, and it takes 15 minutes to descend a winding road to reach the stairs above the beach. Man O' War beach lacks amenities like restrooms and other amenities.
Man O' War beach can only be reached by a steep slope and steps; it is not accessible to people in wheelchairs, mobility scooters, or who have mobility issues. The distance from the parking lot to the lookout and the steps leading to the beach is 15 minutes.
Read about Southwold Pier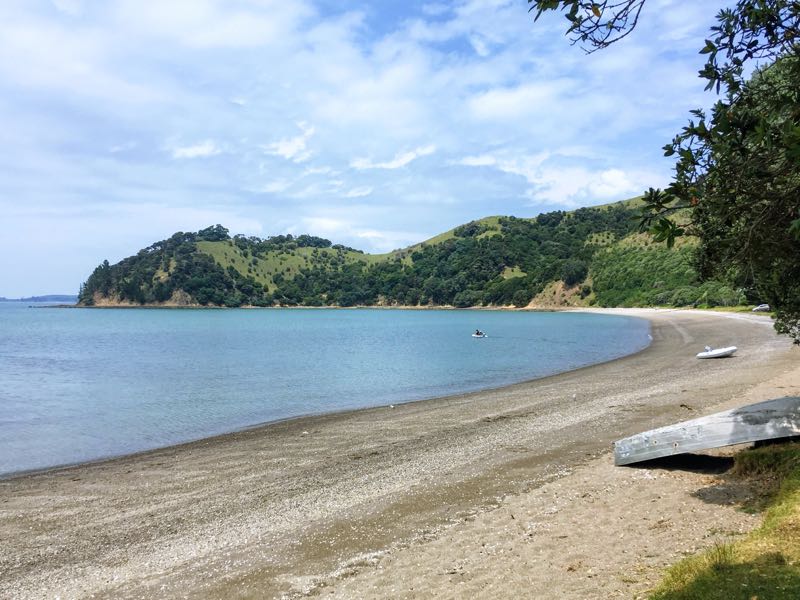 5- Beach Holidays in Bamburgh Beach UK
Bamburgh Beach is a spectacular section of coastline. Vast and wild, it's the ideal location to take the dog for a windy stroll. Although you won't often feel the need to strip down and swim here, this beach is a popular choice for residents and tourists all year long, largely because of the breathtaking surroundings.
The beach is very clean even the coastline is not very much crowded. The beach has a lot of places for you to walk, play or relax. The carparking is free. The beach has breathtaking view of Bamburgh castle.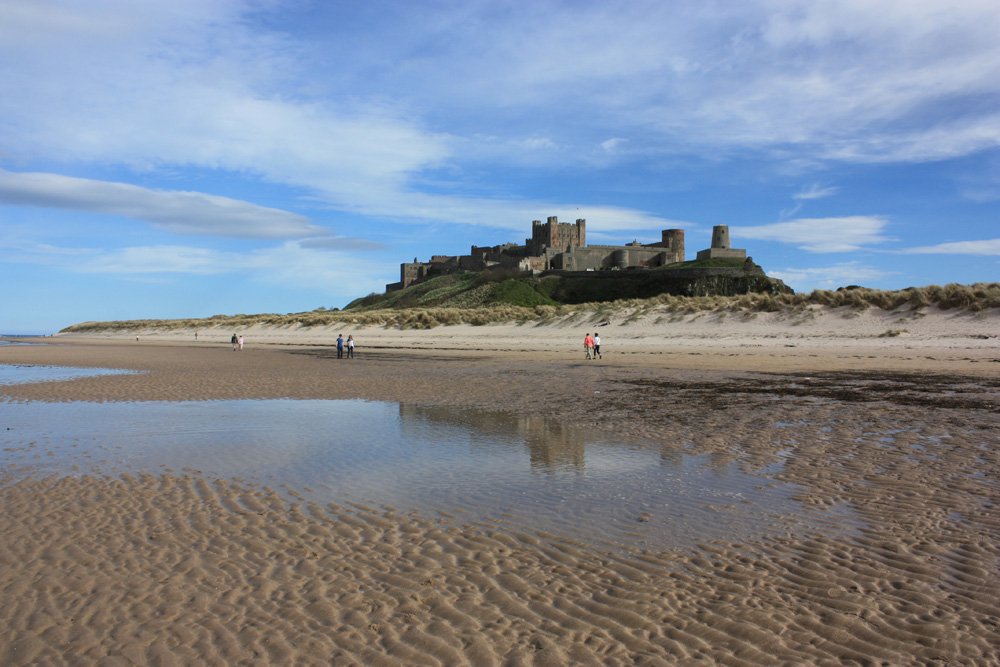 6- Beach Holidays UK in Nairn Beach
Throughout the year, you may see breathtaking sunsets here, and in the winter, the dark sky over the Firth provides even more enchanted views of the Northern Lights. A school of dolphins who live there often visit the beach.
Nairn Beach is easily supported by a number of neighborhood facilities, which contributes to its popularity as a family-friendly vacation spot in Scotland. Nearby are ice cream and fish & chip stands, a park, a putting green, and tea places.
Read about: Yarmouth Pier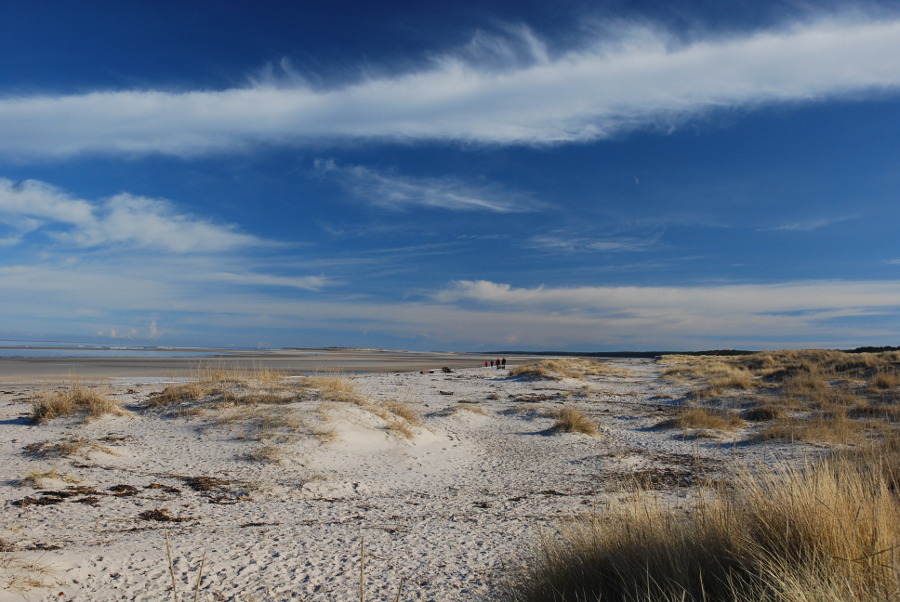 7- Beach Holidays UK in Botany Bay
With its white cliffs, chalk stacks, and private sandy beach, Botany Bay is an excellent choice for a leisurely journey to the coast. From May through October, dogs are not allowed.
Due to its picturesque surroundings and secure waters, this beach is renowned for having water quality that receives a five-star rating and offers buckets of coastal charm. In the summer, lifeguards are on duty at the beach.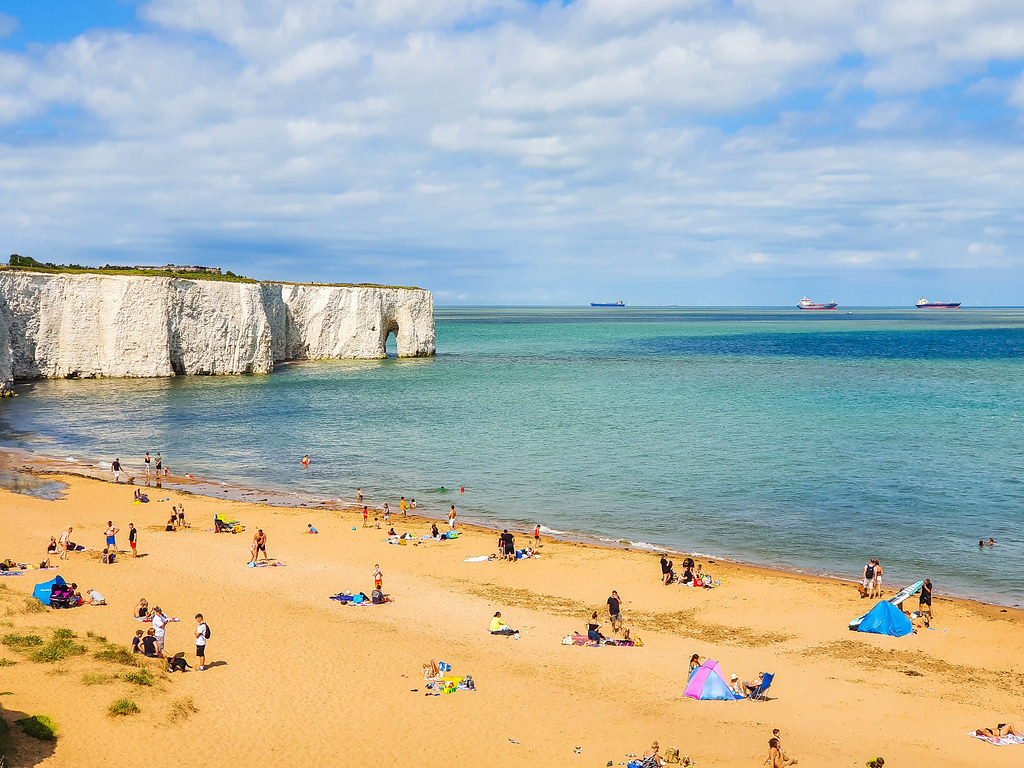 8- UK Beach Holidays in Filey Beach
For young children or anybody searching for a beautiful length of decent sand for hikes, playing in the sand, kite-flying, or even horse riding, Filey Beach in the UK is the perfect seaside destination.
From May 1 through September 30 on this beach, dogs are only permitted in specific locations. The ideal place for a family day out is along the oceanfront promenade, which is surrounded with arcades, cafés, and convenient amenities.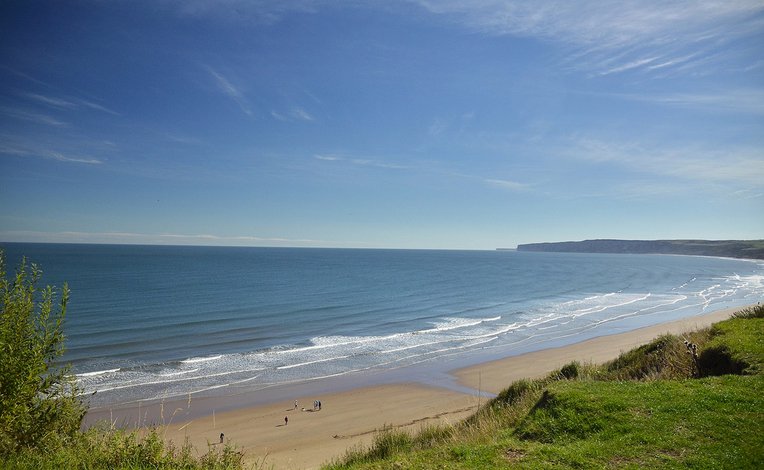 9- Beach Holidays UK in Woolacombe Beach
Woolacombe beach, Devon, UK which has often been named the "best beach," is the ideal family vacation spot since it provides a wide range of activities. It's the perfect area to take it easy and just relax while taking in the scenery.
The three-mile stretch of sand is known for its cleanliness and water quality, and it is surrounded by a multitude of convenient amenities. Even at the height of summer, there are quieter spots in the surf due to the length of the beach.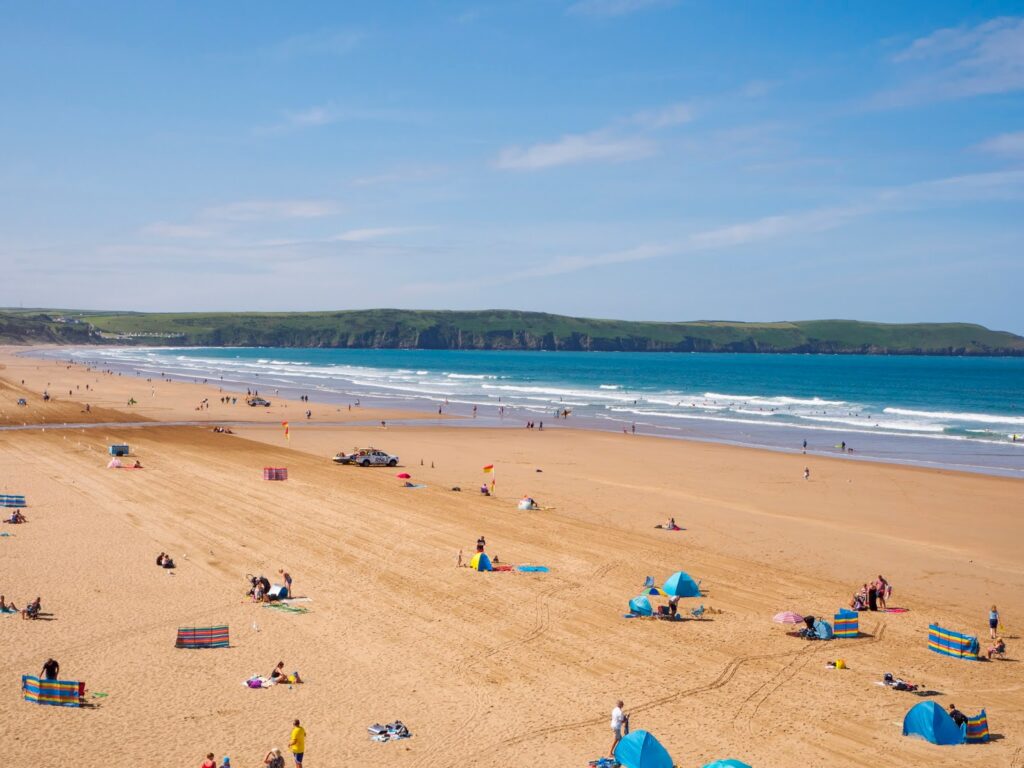 10- UK Beach Holidays in Bournemouth
In the 2021 Travelers' Choice Awards presented by TripAdvisor, Bournemouth Beach is ranked 20th worldwide. The beach has gentle sand and is ideal for families. East Cliff and West Cliff both have cliff lifts. The lifts can take you up or down the cliffs for a modest fee.
You can utilize the zigzag routes adjacent to the elevators if you have any energy (for free). Plan a vacation to the UK's top beach location and you'll likely discover that many of your vacation "wants" are satisfied, including WC facilities and beach huts that you can rent on a daily basis.
Beach Holidays UK Conclusion
All the above mentioned best UK beaches are waiting for your arrival. People head out to beaches for relaxation and fun but these beaches along with relaxation and fun will provide you all sort of enjoyment and will gather memories that will be worth remembering.
Take some time from your tough schedules and plan a beach holiday UK to be relaxed and soothed.
Beach Holidays UK (FAQs)
Are UK Beaches dog friendly?
Yes. The beaches are dog friendly, but some have restrictions for a certain period of the year.
Is drinking water available in beaches of UK?
Yes. The management of the beaches take care of all its visitors needs and necessities.
Is car park available in beaches of UK?
Yes. Some have charged parking while some are free.
Which beach is the most famous in UK?
Woolacombe Beach, Devon is the most popular one as it has excellent water conditions and is a safe and secure place to take your family and kids with you.
Which is the largest beach in UK?
Chesil Beach is the longest beach in UK.