Masako Katsura was a famous carom billiards player. She was known as the first lady of billiards. Her nickname was 'Katsy'. She was married to a U.S. Army non-commissioned officer. Masako Katsura was the first female to participate in the world championship.
She played the male dominant sport and gave serious contributions. Masako Katsura was the first woman in Japan to play these sports with men and she first introduced this game to females.
Early life of Masako Katsura:
Masako Katsura was born on the 7th of march in the year 1913 in Tokyo. She was a sister to four siblings; three sisters and one brother. Masako Katsura was only 12 years old when her father died. After the death of her father, she started living with her sister and her brother-in-law.
Her brother-in-law Tomio Kobashi was a billiard player and he had a separate billiard room. At that time billiard games were popular in Tokyo. Masako Katsura developed an interest in billiards and she started working as a billiard attendee at the age of 14.
Tomio Kobashi taught Masako Katsura the basics of billiard games. Masako's mother always wanted her to play billiard games to make her stronger as she was very weak and used to feel tired all the time. She once said;
"I was weak and I was tired all the time," Katsura said. "So, my mother wanted me to play billiards to give me exercise and make me stronger."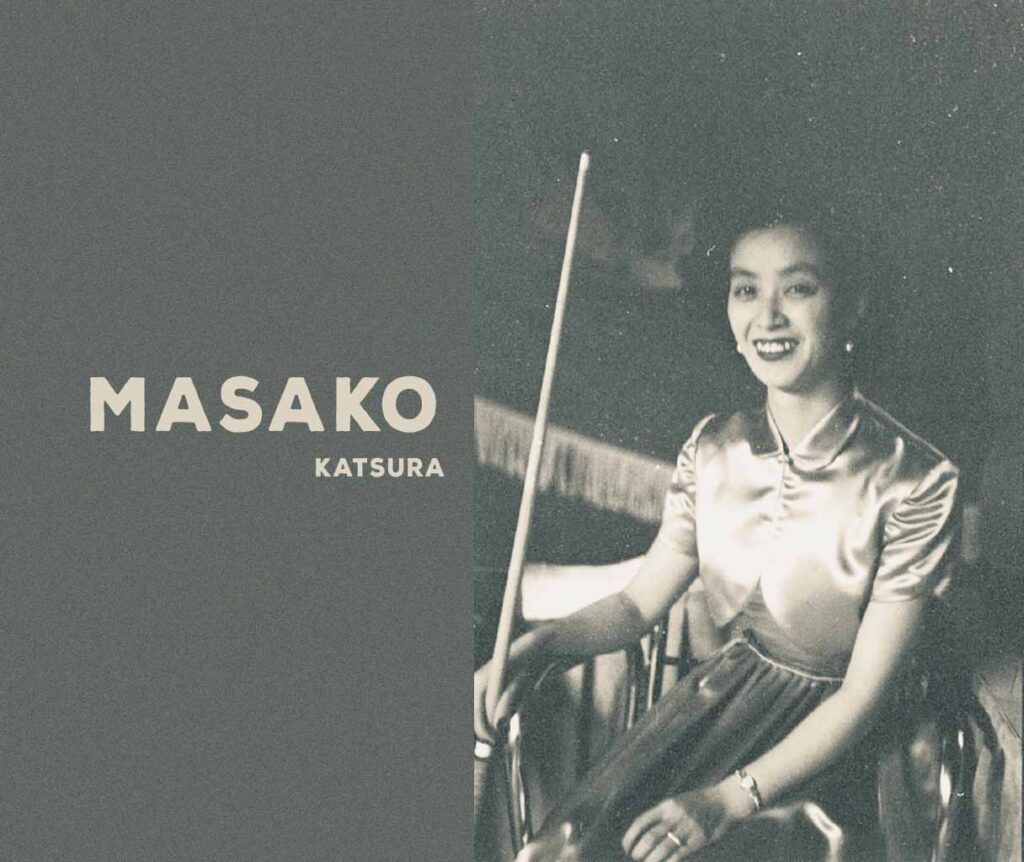 Later, her family gifted her a billiard table after noticing her interest in the billiard games. Masako Katsura started practicing at home and started participating in competitions with Japanese men. Masako won the women's straight rail tournament at the very young age of 15.
Masako katsura met Matsuyama in 1937, she was national billiard champion. Matsuyama was very impressed with the Masako game then Matsuyama started teaching her expert level play 3 cushion billiard. In 1947, Masako Katsura became a professional billiard player in Japan.
Tokyo was home to billiard games
Tokyo was home to billiard games. Masako's brother-in-law Tomio Kabashi was the owner of one of the billiard halls in Tokyo. He first taught Masako Katsura the billiard game. Masako herself used to practice carom billiard games at home on the billiard table that was gifted by her family.
As she became a good player, Masako Katsura started taking part in competitions and won the matches. She even won the Japanese women's straight rail competition. When Masako met Matsuyama, Matsuyama was impressed by her game and decided to teach Masako the pro techniques of the billiard game.
Matsuyama was the eastern billiard champion. After taking lessons from Matsuyama, Masako became the pro champion and aced the game.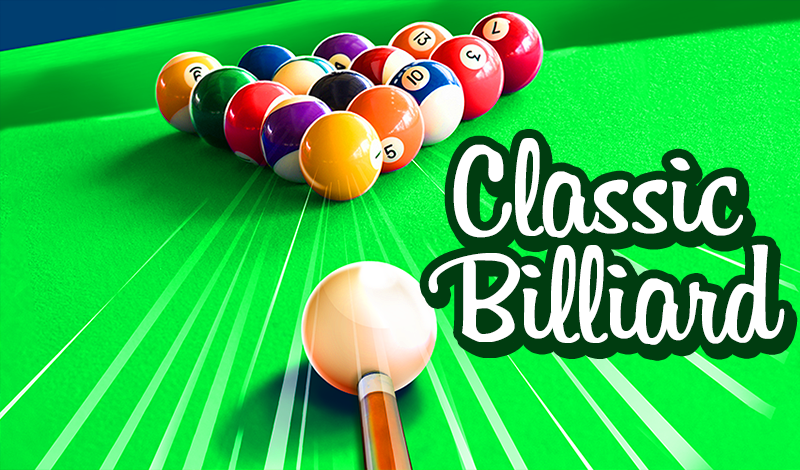 Masako katsura in World Championship
In the World Championship, Masako Katsura finished 7th overall, an incredible feat that shocked the entire world.
Masako Katsura stunned a number of billiards players like Ray Kilgore, Joe Procita along with Herb Hardt. However, she fell to a few like her former coach, Matsuyama, who defeated her by 50-48 points.
Katsura participated at the world championships of 1954 in which, once more she was the sole female participant.
She came in fourth place overall, however she had major upsets over other elite athletes. Following the event ended, Masako Katsura took an absence, only taking part in shows. Also, she appeared on television to discuss the sport, or to play in games for exhibition.
Married life of Masako katsura:
In 1947, Masako Katsura met Vernon Greenleaf, an American serviceman at the Tokyo service club during the billiard exhibition. Greenleaf took interest in billiard and took lessons from Masako then he began liking her. On 30 November 1950, Masako married Vernon Greenleaf.
Vernon Greenleaf was transferred to the U.S. in 1951. That is why he and Masako Katsura immigrated to the U.S. initially she faced difficulty playing at U.S billiard clubs as these clubs were men dominant and billiard was considered a game for men only.
Masako Katsura was invited by the Cochran to play at the world championship. Cochran sent his son to investigate katsura's game and he received good feedback.
Masako Katsura Billiard Moves To America
World War II halted Masako Katsura career in billiards. In the time of war she was a solo show for Japanese troops. After the war , she changed her attention to performing Billiard tricks for American soldiers.
These performances helped Katsura launch her international career. One American G.I. wrote for his parents, the billiards champion Welker Cochran, in regards to Masako Katsura. He wrote, "This girl is better than you are!" Cochran offered his support, encouraging Katsura to travel to the U.S.
As of 1951, Masako Katsura made the move to California. It was shocking for her to discover the dearth of women playing the game in the 1950s. In Japan women were employed as billiard rooms all over the country. However, this was not the case for women in USA. American Billiard halls were only designed for and by males, and were clearly regarded as a domain for males.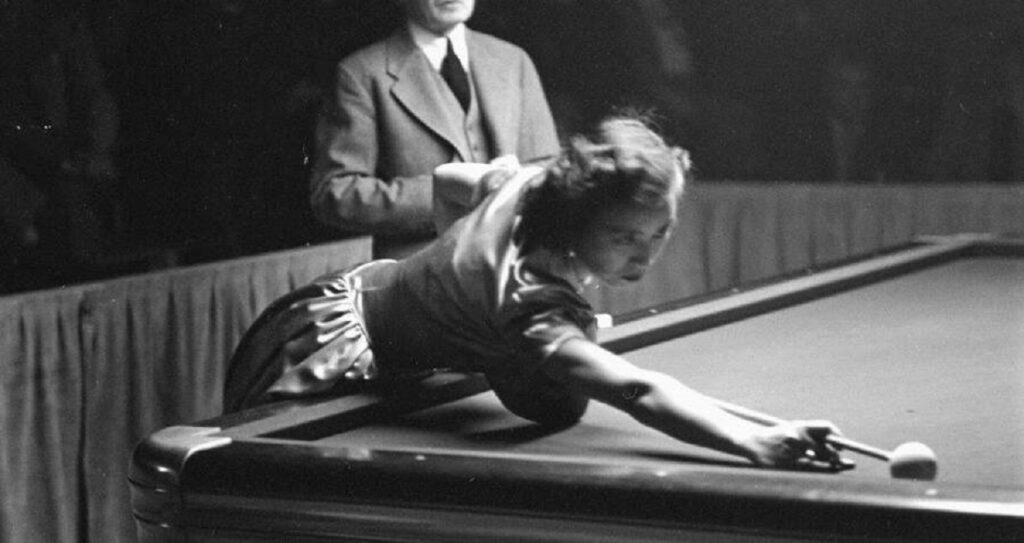 Later life of Masako Katsura:
When Masako katsura reached the U.S., she did exhibitions for Cochran. She played very well that Cochran called her shots 'almost unbelievable shots. Then Cochran finalized the invitation to invite Masako.
Later Cochran became Masako katsura's manager. Cochran said about Masako Katsura that "The game has needed a woman player with skill enough to compete against the greatest of men players. And I'm convinced now that it's finally got just that."
Who was Willie Hoppe and what he said about Masako katsura?
Willie Hoppe was an American billiard champion. He said the following about Masako Katsura;
"In the East, they told me she was good, but I never expected to see anything like this. The girl is marvellous. She's going to win her share of matches against the best of them."
In 1952, a match took place between Hoppe and Masako. Although katsura didn't win the match she was recognized as the first woman to compete at the international level. Masako katsura appeared on n television shows in 1958.
Retirement and Death
The great billiard champion Masako Katsura retired in 1961 however she played the last game in 1976 at San Fransico billiard hall. Her husband died in 1967 and she had no children so she went back to Tokyo. Masako katsura died on 20 December 1995 due to a sudden heart attack.
Masako Katsura Billiards Conclusion:
Masako Katsura also known as the 'first lady of billiards' was the first woman to compete at the international level with men. She opened new sports for women by breaking the stereotypes. She belonged to Tokyo and started her sports career in Tokyo, Japan. Her mother convinced her to engage herself in sports to stay active and focused.
Masako Katsura also wrote books on billiard games. These billiard books were published in Japan. While giving the billiard exhibition, Masako met Greenleaf who was an American but was posted in Tokyo.
Masako Katsura FAQS:
Q1. At what age, Masako katsura won Japanese women's straight rail championship?
Masako Katsura won the Japanese women's straight rail championship at the age of 15.
Q2. In which year, Masako katsura moved to California?
When Masako's husband was transferred to the U.S., she moved along with him in 1951.
Q3. When did Masako katsura start playing billiards?
Masako started playing billiards at the age of 12 after her father's death.
Q4. Who first taught Masako katsura billiard games?
Masako's brother-in-law Tomio Kabashi first taught her billiard games.
Q5. when Masako met Matsuyama and how did this help boost her career?
Masako Katsura met Matsuyama in 1937. Matsuyama taught Masako pro techniques of billiard games. This helped a lot in boosting her career as she learned the pro game and was able to compete further.
Q6. When Masako katsura got married?
Masako Katsura got married on 30th November 1950 to Vernon Greenleaf. Shortly after the marriage, Vernon Greenleaf was posted back to the USA, and she followed her husband along.
Q7. At what age, Masako katsura lost his father?
At the age of 12, Masako Katsura lost his father. After that Masako and her mother went to live with her sister and brother-in-law.
Q8. Why Cochran sent his son to Masako?
Cochran sent his son to observe Masako Katsura's game.
Q9. When did Masako katsura last time play billiard?
Masako played billiard last time in San Fransico at a billiard parlour in 1976.
Q10. When Masako katsura died?
Lady billiard champion Masako katsura left the world on 20th December 1995 in Japan.
Read more Interesting Articles on Pierdom