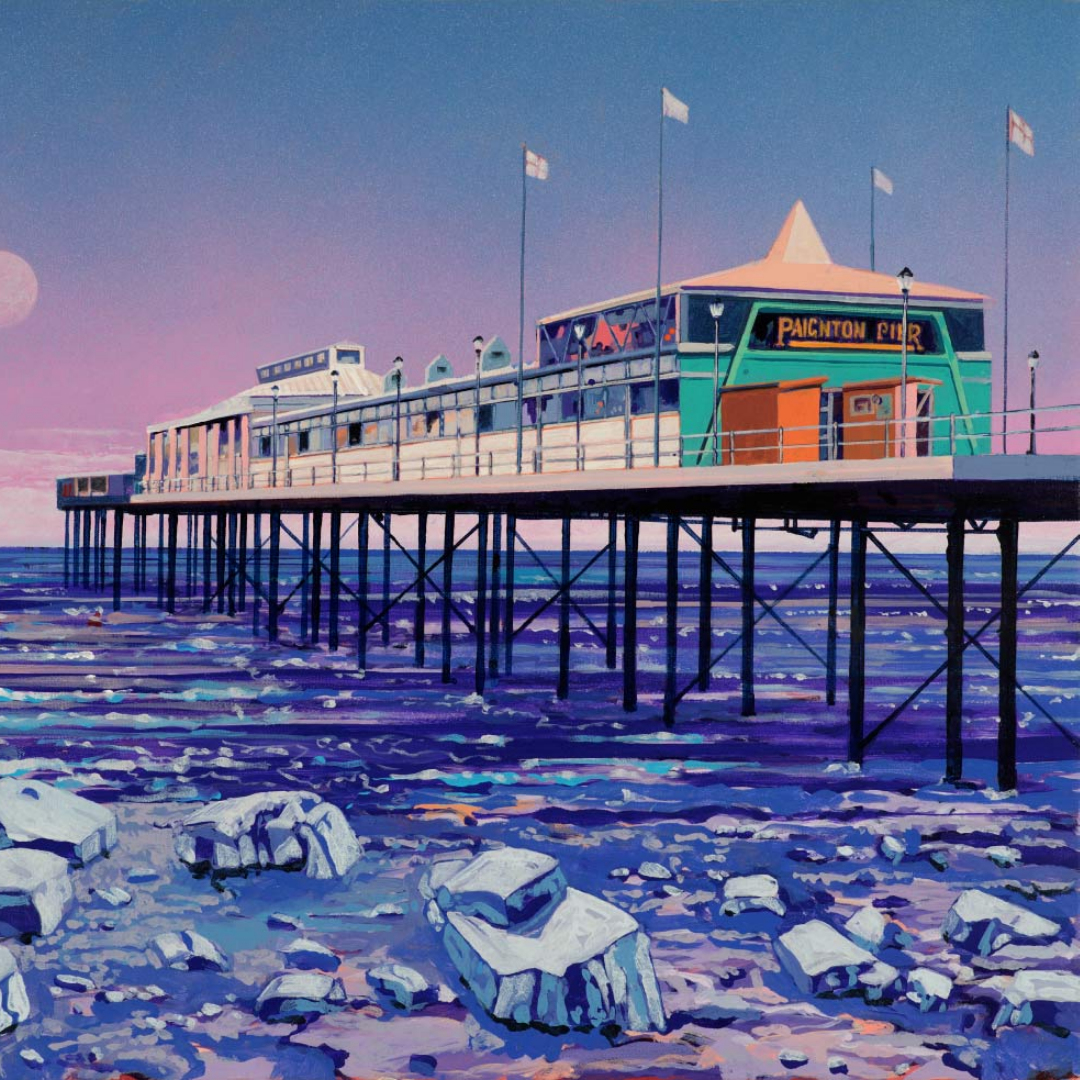 Paignton Pier was Opened to Public in 1879
Paignton Pier was first opened to the public on 1879. It has been through many changes throughout the years. The Pier is located in the middle of one of the most beautiful beaches on The English Riviera. It is a short walk from the station, town centre and buses. There are plenty of parking spaces nearby. You can enjoy a view of the bay from the pier or take part in any of the amusements available.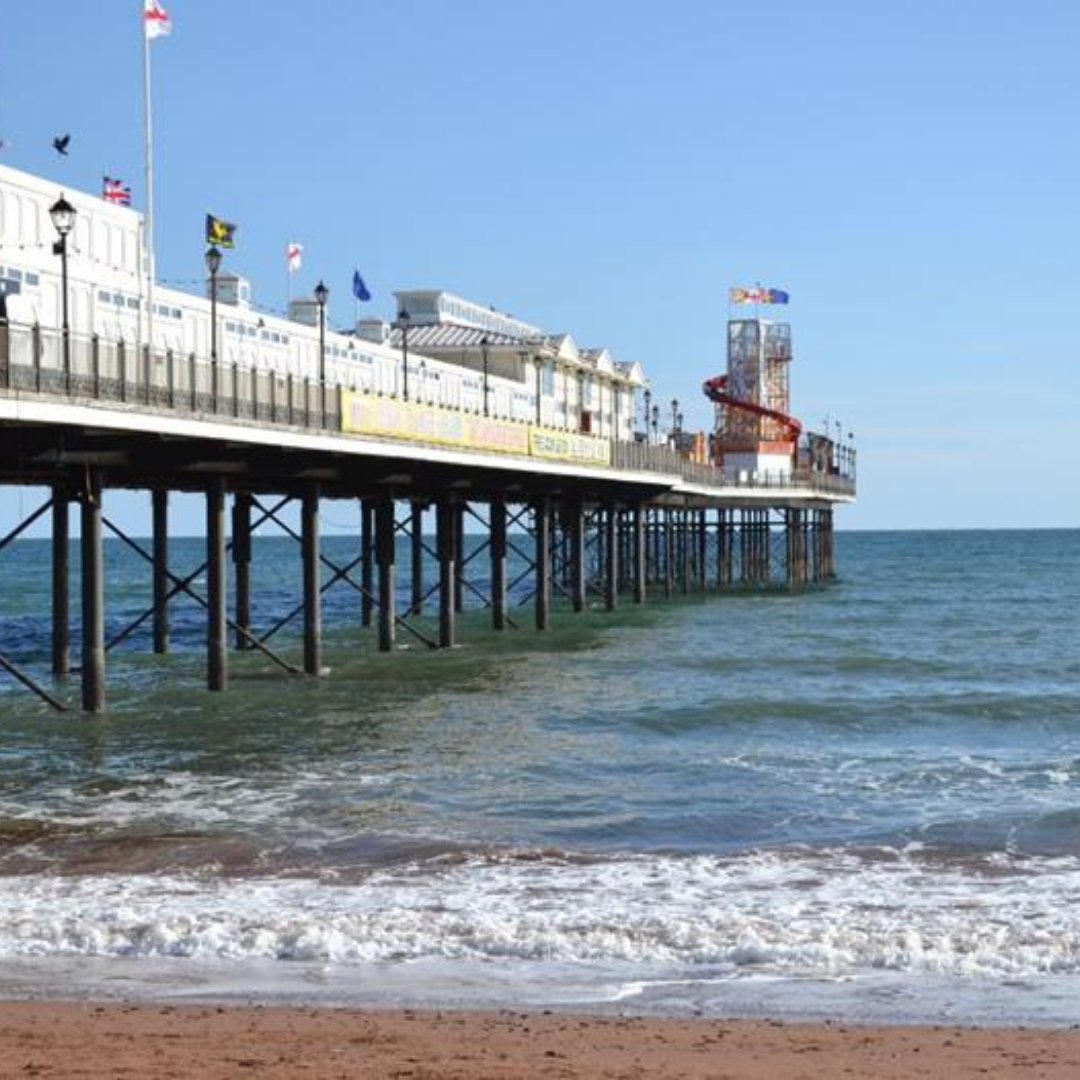 Paignton Pier has strech of Red Sand
A Paignton pier is located on the beach, which has many arcade games. A large green perfect for games and picnics complete with crazy golf, cinema, and a visiting fun fair. You will find a variety of restaurants, shops, and toilets along the promenade. Paignton Pier Sands is the ideal holiday beach. This long stretch of red sand and shallow sea is the ultimate beach for seaside fun, paddling and relaxing.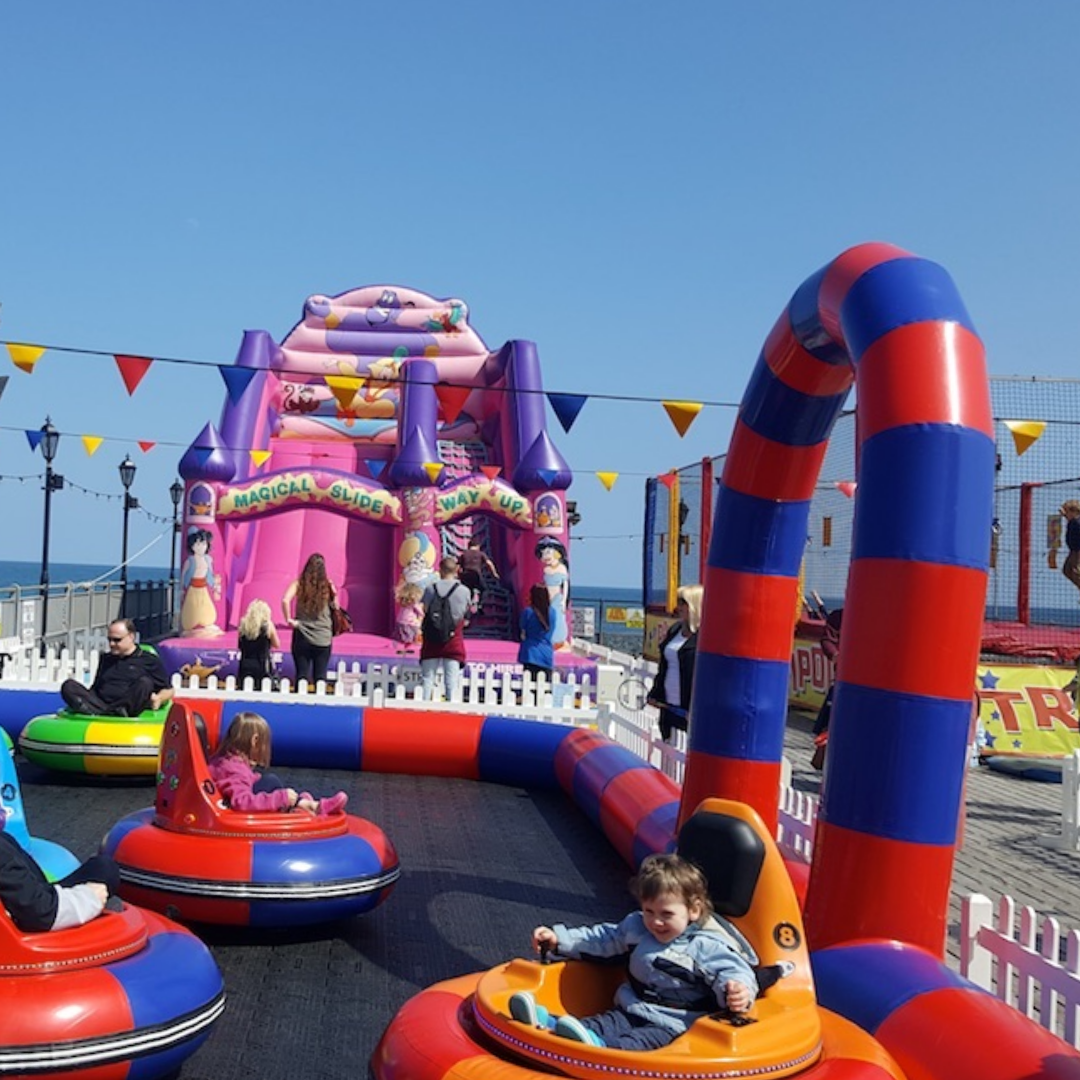 Paignton Pier Children's play area
For the young ones Paignton Pier amusements and children's play park that make a trip to Paignton Pier extra special. When you first enter the Pier, don't miss the little amusement room, where you will see a nostalgic trip down memory lane with some of the traditional coin push, toy grabber and fruit machines. This traditional Paignton pier has been a draw to all ages for many years.
Confused about deciding a place to spend a holiday in Paignton, we have got you covered. On this page, you will get to know about an amazing place to spend your holiday which is Paignton Pier. Paignton Pier is a resort situated in Paignton, Devon. Paignton Pier was opened in June 1879. This beautiful seaside resort is among the most popular holiday spot in Paignton. Paignton Pier is beautifully designed in a way to host a large population of people on deck.
There are many thrilling activities at Paignton Pier including bumper cars, amusement rides, gaming, a play centre, outdoor slides, and a lot more. There are no entry charges to enter Paignton Pier, you can come, relax and enjoy the sunset without any cost.
Paignton Pier is a family outing place which is located at S sands, Paignton TQ4 6BW. This place is open all days of the week. This place is known for the most adventurous rides, exciting fun, and tasty food. It's fun for all the family.
This pier looks beautiful at night because of the attractive lighting. The sunsets at this pier are the best part. Entry is free; however, you need to pay for the amusements and rides. If you ever go to Paignton Pier, make sure to stop by the fish and chip shop. You will surely going to love the meals there.
Evening walks at the pier always appear to be peaceful ones. Visit Paignton Pier, grab a seat and watch the sunset with a cup of your favorite coffee. Blue skies and a beautiful view this is all you need. Paignton Pier is home to great adventures and delicious food.
Paignton Pier is one of the oldest resorts situated on tor bay sea in Paignton. First, the Paignton Pier act got royal approval on 3rd June 1874. Construction work did not start immediately. The final construction of this pier started after 4 years after its approval that is in October 1878.
About 780 feet of length pier was constructed having a grand pavilion at the end of the deck. The constructor behind this exquisite pier is Arthur Hyde Dendy. However, Geoge Soudon Bridgman designed this place. 
Officially, this place was opened in June 1879. The pier head was later rebuilt in 1881 to construct a billiard room connected to the grand pavilion. After the death of 'Arthur Hyde Dendy,' the Paignton Pier was purchased by Devon dock, pier, and Steamship Company.
The devastation of Paignton Pier:
In 1919, a terrible incident occurred at Paignton Pier when the pier head and its associated buildings burned in a fire. Due to this, Paignton Pier remained closed for a long time. This was a decline phase of Paignton Pier.
Later in 1940, this area was repaired and refurbished. Many changes were made in this place in 1968. After 1980, the shoreward end of this beautiful pier was widened to enlarge the pier's neck. Also, pavilions were built on this pier to host more visitors.
Paignton Pier Re-opening:
Paignton Pier was later sold to Mitchell leisure in June of 1994. Special alterations were made to this place. In 1995, the Paignton Pier re-opening ceremony took place. This ceremony was for the celebration of the completion of the first phase of the repair program.
The first phase of restoration included the reconstruction of the deck of the pier. In 2008, a structural fault was noted in one of the supporting columns due to which repair work was done to the pier. Half of the pier was closed during the repair process.
In 2012, the lighting of the pier was replaced to enhance the look. Whereas in March 2015, this pier went through a major renovation process that changed its face. During this renovation, a new floor was added to the indoor arcade. Also, the existing pavilions were renovated.
Later in April 2015, there was a new addition to the Paignton Pier which was a casino bar. A casino room was opened at this pier which attained the attraction of the majority of the visitors. An outdoor amusement area was opened at the pier head, this area became the centre of attraction for all the children.
Amusements at Paignton Pier:
Paignton Pier is the right stop for unforgettable adventures. This place has the following choices for amusement and fun:
1. Paignton Pier Play centre.
Paignton Pier has a great play centre where kids can come and play. Your little ones will love this area of fun and enjoyment.
2. Paignton Pier Bumper rides.
Bumper rides or dodgem cars are huge entertainment at the pier. Come visit the pier and enjoy the wide range of family activities to do.
3. Mega outdoor slide in Paignton Pier.
In the outdoor area, there is so much fun. Bring your child here to enjoy the trampolines, bouncy slides, jumping castle and water boats, and the list continues.
The indoor amusement room of Paignton Pier is a room fun of excitement and fun. There is a variety of gaming in the indoor section. This gaming section includes games such as virtual gaming, coin-operated rides, prize games, and many other modern arcade games.
5. Food and drink at Paignton Pier.
This pier has good food choices to refuel you. The Fish and chip shop is a must-try restaurant. Don't forget to taste the freshly baked donuts over there. Most important, ice cream parlors are also available. If we talk about drinks, then there are also so many drink choices at Paignton. You will find coffee, juices, slushes, and a lot more.
Paignton Pier famous snacks:
Paignton Pier fish and chips.
Hamburger.
Ice Cream Parlour.
Donuts.
Facilities at Paignton Pier:
Exceptional facilities are provided at this pier that includes indoor seating, outdoor seating, a variety of food, a kid's play area, trampolines, bumper rides, a casino, a play centre, and the list goes on. Come try your luck at the crane machine. There are also clean toilets at this pier. Schools organize trips to this pier to let students enjoy the best of their picnic at this wonderful place. There are also many facilities for disabled persons. Dogs are also allowed at this pier. You have to pay for amusement rides yet the entrance is free.
Also, there are many shops at this pier, you can also do shopping while your kids play on the trampolines. This spot is perfect for picnics and whole family gatherings. As there are attractions for people of every age at this pier. There are separate entrance and exit routes. All the pier is clean and safe to carry the load of hundreds of people. You can also come just for site seeing and boardwalk.
A huge diversity of adventures and amusements are there for kids at the Paignton Pier. Your kid will not be bored with family picnics at the pier. Pier is a perfect place for kids' fun, school picnics, and birthdays. Here is a list of entertainments for kids at Paignton Pier;
1- Trampolines
2- Jumping castle.
3- Play centre.
4- Indoor gaming arcade.
5- Carousel horse.
6- Photobooth.
7- Face painting.
8- Face painting.
9- Shooting gallery.
10- Dodging car.
11- Virtual gaming.
12- Remote control trucks.
13- Crane machines.
If you are wondering how to keep your children amused, then you must bring your child to this amazing place. Explore endless options at Paignton Pier at a little cost and have huge fun.
Paignton Pier Timing and contact details
There is a bit of variation in the timings in summer and winter season. Timings for both seasons are mentioned below;
Summer: 8 am to 12 am. (Monday – Sunday)
Winter: 9 am to 10 pm. (Monday – Sunday)
This pier is open all the year.
Address: This place is located at S sands, Paignton TQ4 6BW, United Kingdom.
Contact: +44 1803 522 139.
You can send your queries on the Paignton Pier website. All you have to do is to open the website and click on contact. Then enter your name, phone number, and email address and write your queries. Click on send. Your questions will be answered in a short time.
Paignton Pier Conclusion:
Paignton Pier, a famous coastal resort that was opened in 1879 is now changed a lot in many ways. This pier is renovated and many new modifications have been made to this place compared to the old times.
You will find many small food shops along the deck for burgers, ice creams, juices, slush, donuts, and coffee. Paignton Pier is best in providing the exceptional facilities. Paignton pier is pet friendly place; your dogs are welcomed at this pier. You will find clean toilets at this place. There is also a parking facility near the pier. If you are a casino lover, then you should visit the pier as there is a beautiful casino outlet over there. The best time to enjoy you at the pier is sunset time. Paignton Pier looks extremely beautiful at the time of sunset. Come with your family and enjoy the best time of the vacation at Paignton Pier.
Spans: English Channel
Design: George Soudon Bridgman
Construction: Cast iron screw piles in pairs with cross-bracing
Year opened: 1879
Original length: 238m
Present length: 226m
Fire: 1919
Restoration: 1881, 1948, 1968, 1980/1, 1994/5
In the 1870s, local barrister Arthur Hyde Dendy bought Teignmouth Pier with the intention of transporting it, in its entirety, to Paignton. This proved too expensive and instead a brand new pier was built; the Paignton Pier Act received Royal Assent on 1874. The pier's entrance is a short way along the pier deck, an unusual feature, but generally the ballustrades and classic lamp standards are much in keeping with the pier's Victorian design.
Paignton Sands
Paignton
TQ4 6BW

PierDom
When this pier opened?
This pier opened in 1879. It's one of the oldest piers of historic times.
Who owns Paignton Pier?
The owner of Paignton Pier is Mitchell leisure. He became the owner of this pier in 1994.
When did Paignton Pier burn in a fire?
In 1919, some parts of this pier caught pier due to which this pier remained closed for some time.
What are the facilities at Paignton Pier?
Facilities at Paignton Pier are exceptional. There are many restaurants, cafes, amusements, an indoor arcade, etc. Also, there are clean toilets and a parking facility. There are supervisors in the kid's section to avoid any unfortunate incidents.
What are the summer timings at Paignton Pier?
Summer timings of Paignton Pier are from 8 am to 12 am. Whereas winter timings are from 9 am to 10 pm.
Is Paignton Pier free to enter?
Yes, it is free to enter at Paignton Pier. However, you have to pay for rides, games, trampolines, and other attractive activities over there.
Can I take my dog to Paignton Pier?
Yes, of course, you can take your dog or any other pet with you to this pier.
Are there clean toilets at Paignton Pier?
There are clean toilets at this pier. The entire pier is so clean and beautiful.
Is Paignton Pier worth visiting?
Definitely, this place is worth visiting as this pier is full of amusements and adventures. There are many rides, trampolines, arcade games, crane machines, and dodging cars for children and also for teenagers. Whereas there is entertainment for adults as well like casinos, restaurants, and shops. Evenings are the best at the Paignton Pier.
Is Paignton Pier open all days of the week?
Yes, Paignton Pier is open all the year, all days of the week. You can visit anytime you want.